Imagine This Installs Custom Home Cinema; Technical Elements Designed Using The Cinema Designer
---
Posted on 25th January 2018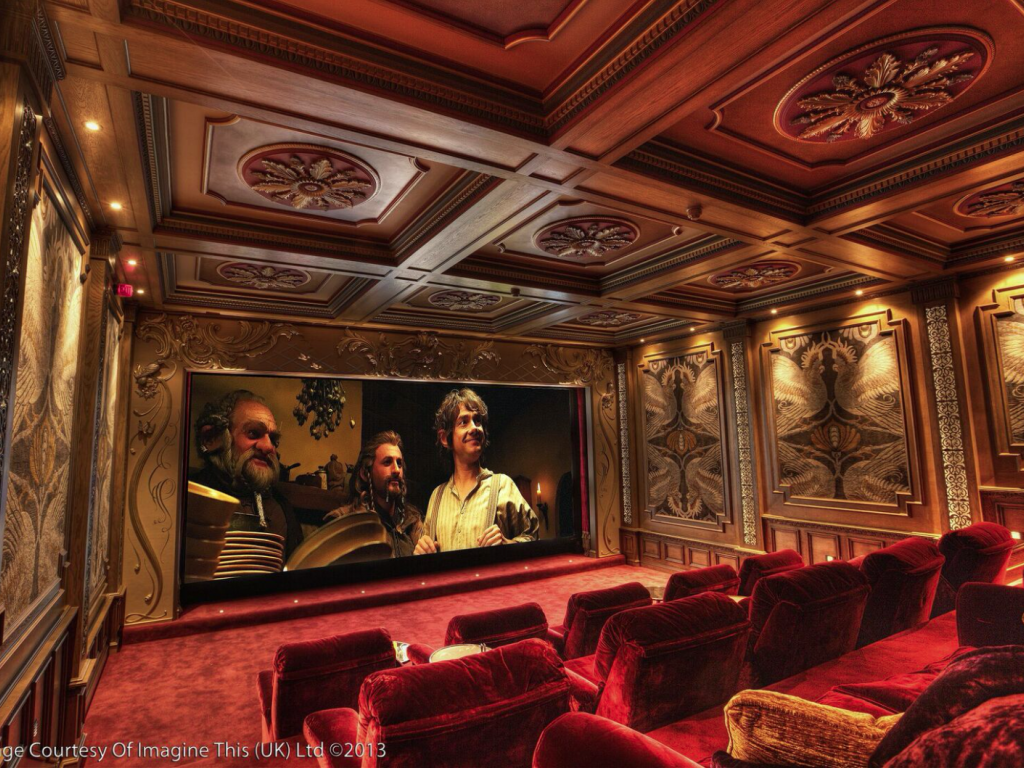 UK integration firm, Imagine This was contacted in March 2010 by the representative of a very well-respected and – very private – client, who wanted a home cinema for his large London home.
Excerpt taken from an article by CE Pro Europe; read the full story here.
The client in question is a person with a very practical understanding of the technical aspects and deliverables of a screening room, making it clear that he wanted this screening room to perform at the highest technical level, whilst also being suitable for use by the family and visiting friends. Quite simply, this screening room would need to outperform all others.
"I met with the client briefly, and his brief to me was: give me the best you can do. There is no budget; give me the best you've got," Guy Singleton, MD of Imagine This and TCD, reflects. "He trusted our judgement and what we were going to do. They had some performance objectives – one of them being high frame rate (HFR); so as long as we ticked those performance objective boxes, we were free to design and specify what we wanted to do, which was remarkable really."
The brief for the project was outlined at the beginning of the process, but would evolve over the course of the two years it was being worked on. The request was for a design that would convey a classical elegance and comfort through the use of authentic materials and architecture. The aspiration was for a private screening room which would be opulent and luxurious; one that would look and feel on a par with the best in the world.
Following a technical evaluation of the space, the team made some initial suggestions for the design of the electronics, projection, loudspeakers and for the aesthetics of the screening room, creating CAD drawings for the layout of the space and a mood board to show aesthetic ideas.
Once the preliminary ideas had been presented, the project in its entirety was considered. As the screening room was to be such an important and anticipated addition to his home, the client agreed that a new purpose-built space would need be constructed.
"We looked at a number of rooms in the house and none of them appeared to be appropriate," Singleton admits. "They all had something that would have meant a compromise that we weren't prepared to make. I suggested building something entirely new or digging under the ground, and they said it was no problem. However when the client was flying home he realised it would delay the project by about a year, as that's how long it would take to dig a 35m by 5m, 22m by 6m hole."
Imagine This was required to proceed with aesthetic plans for the space (which included the foyer), detailing initial ideas into a fully modelled 3D design, which allowed the team to demonstrate in detail how the screening room and foyer would be presented.
"I used The Cinema Designer (TCD) to design this cinema. I used all of the known parameters that we work to, input them into some software, and in what would take me three or four weeks to create CAD drawings and renders, the software will do it in about 30 seconds. We completed calculations to determine the optimum size and placement of the projection screen using guidelines from Imaging Science Foundation. We also calculated seating distances and the rake of the flooring," Singleton remembers.
"Whatever it is I've got to do to make sure that the cinemas that I build meet the required standards, is the key thing to me. That's not building a subjective room, but building a room that I can predict is going to deliver an amazing experience."
Kit 
Crestron products are used to consolidate and automate the functions needed. An RF touchpanel and an IP-based iPad control App are used for the screening room controls, while a rack-mounted Cresnet hard-wired touchpanel (located in the equipment room) takes care of the maintenance functions. This multi-platform approach ensured that control would be accessible using all available mediums.
A comprehensive range of acoustic treatments were implemented, including the use of green glue and absorption, reflection, diffusion and bass management materials from RPG. The acoustic analysis pre-treatment predicted that the mid and high frequency response of the room might be very poor and the room model exhibited bad separation of the modes between 80 and 150hz. By using the acoustic treatments, the team greatly improved modal response and pressure was more evenly distributed, giving a better sound overall.
In order to achieve THX Reference level performance in such a large room (290m³), products from Procella's range of THX approved loudspeakers were used. At the front, balanced active P815 bi-amplified loudspeakers were mounted in the baffle wall, which was specially constructed to enhance their output. The rear sound array consisted of six passive Procella P8s. This allowed Imagine This to reproduce full DTS-HD sound. In order to deal with MSV (mean spatial variants), wave collisions, standing waves and nuls, two Procella P18 high output subwoofers were installed into the baffle wall.
Amplification and processing comes from Anthem, providing DTS-HD and all relevant HD formats. This ensured that the audio framework would be able to process future releases or new sound codecs; as the Anthem products were firmware and hardware upgradeable.
The client was keen to have as large a screen as possible, so an immense 260in screen was specially constructed by Screen Research for this project, paired with a 12,000 lumens Christie projector.